Interventional News – November/December 2016
Dr. Sebastian Mafeld (UKETS Co-Founder) discusses 3D printing and the potential of a 3D printed endovascular simulator.
Click this link for the full article.

RadMagazine – October 2014
UKETS co-founder Dr. Sebastian Mafeld, Terumo UK product manager EVI Mike Sleight, interventional cardiologist Dr. Alan Bagnall and UKETS co-founder Mr. Craig Nesbit.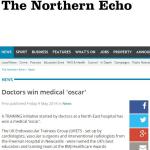 Doctors win medical 'oscar' (From The Northern Echo). The Northern Echo [Internet]. 2014 May 9;
Available from:
http://www.thenorthernecho.co.uk/news/11204129.Doctors_win_medical___39_oscar__39_/?ref=var_0
The BMJ Awards – Winner – May 2014
UKETS wins BMJ award.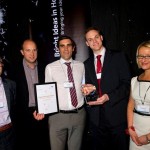 NHS Innovations North Award – Winner – June 2013
Bright ideas in health recognised at annual awards event (From The Northern Echo). The Northern Echo [Internet]. 2013 Jun 24; Available from:
http://www.thenorthernecho.co.uk/news/health/10504663.Bright_ideas_in_health_recognised_at_annual_awards_event/